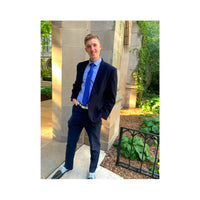 Harrison D. Wendland
Always learning, always advancing, always pursuing more.
Each year I complete more than 75 biographic, psychology, business, communication, and personal development books though my time has always been largely dedicated to entrepreneurial ventures also.
I live and lead with the philosophy that every interaction matters and I can learn from anyone and anything.
Get to know me better
Testimonials
You are a reformer. You are somebody that is called to change systemic issues.

Dr. Earlie James, Author, Certified Leadership Coach, Speaker, and Pastor
Harrison advocates for helping others without asking for anything in return. He has the spirit of a Leader who grows by helping and motivating others.

Mohamad Eleter MBA, PMP, Business Development Manager at Secureworks
Harrison is going to be a CEO someday, everyone I've said that about has become one.

Stephen Panzcak, CEO, Chief Strategic Officer, Remedy Coaching Partners, LLC
You remind me of a young Tony Robbins.

Martha Reyes, Owner, Havana Cuban Restaurant
Harrison is one of the finest individuals I have had the pleasure to work with. He is decisive, a learner, dedicated, hard-working, kind, thoughtful, ambitious. His follow through is impeccable.

Jennifer Fonseca, Assistant Director of Career Development, Palm Beach Atlantic University
You are the hardest working person I have ever met.

Zheng Cao, Partner, Boardwalk Advisors LLC
You are the most driven person that I have ever met.

Kashif King, Law Student in top 5% of Class of 2022 at Emory Law School
Being a Lakers fan for a long time, we have all heard about Kobe Bryant's Mamba mentality. I saw that as the experience of not waiting to learn, but taking action to learn, and Harrison you embody that. He does not wait for the learning opportunity…he seeks it out.

Warren Peskin, Executive Vice President, Airgle Beauty Care
I was and continue to be nothing short of impressed with his character/integrity, work ethic, and passion for learning.

Ryan Oertel, Vice President of Student Life, Wisconsin Lutheran College